A mountain of discarded clothes in the Atacama Desert of northern Chile has reached such huge proportions that it can be seen from space.
Last month, the satellite imagery app SkyFi revealed views from orbit of the pile of clothes that is created as a result of the fast fashion industry, which produces an estimated 92 million tons of waste a year. Included in the clothing mountain are some unusual items, such as ski boots and unwanted Christmas sweaters.
The 20-inch (50 centimeters) resolution image, posted to the SkyFi blog on May 10, shows how large the clothes mountain has grown in comparison to a nearby city, revealing the true scale of the problem it represents. 
Related: The 1st photo of Earth from Europe's powerful new satellite is amazing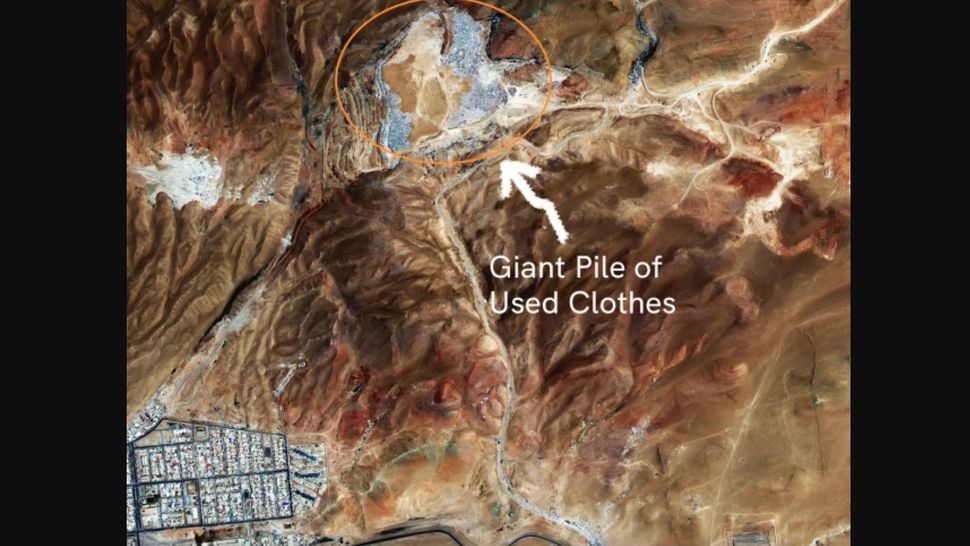 "The satellite image that we ordered of the clothes pile in Chile's Atacama Desert really puts things into perspective," SkyFi wrote in the blog post. "The size of the pile and the pollution it's causing are visible from space, making it clear that there is a need for change in the fashion industry."
The clothes in the mountain are mainly manufactured in China or Bangladesh and are then sent to stores in the U.S., Europe, and Asia, Agence France-Presse reported in 2021. The garments that fail to sell are dumped in the Atacama.
The news organization added that, as of 2021, it was estimated that around 59,000 tons of clothes arrive in the region each year, coming in through the nearby port of Iquique, in the Alto Hospicio free zone in northern Chile.
Some of the clothes are bought by clothing merchants from the capital of Chile, Santiago, which is 1,100 miles (1,800 kilometers) to the south of the clothing mountain, and some are taken by clothing smugglers to resell in other parts of Latin America. Even with this taken into account, the mountain of discarded clothes is still growing by 39,000 tons a year. 
The clothing can't be sent to municipal landfills because it is not biodegradable and contains chemical products, Franklin Zepeda, the founder of EcoFibre, a company that turns some clothes into insulation panels, told the AFP.
SkyFi explained how the imaging of the clothes mountain lines up with the app's ongoing mission to make Earth observation data transparent and easy to access, something it said is vital to identifying and addressing problems like this one. 
"With our web and mobile apps, anyone can access satellite imagery to confirm stories and see the world from a new perspective," SkyFi wrote.
link