Health care is underperforming despite new money and resources having gone into it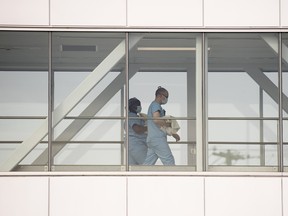 Article content
The Economist ran a piece this week on the "wobbling" health-care systems that are a problem in many countries these days. If anything, Britain has it worse than we do in terms of crowding and wait times. In passing, the piece mentioned that Canada's health-care system employs 1.6 million people. For some reason, I had never thought of it quite that way. Total employment was 19.8 million in December, so that's a little over eight per cent of all jobs.
Article content
I suspect that number comes from the OECD, whose website provides a lot of cross-country health-sector stats. I checked out how some of ours had changed between 2010 and the latest year for which data are available, which in most cases is 2021 — admittedly not your most typical year, being the second in a pandemic.
Article content
Number of physicians? Up from 77,488 in 2010 to 106,042, an increase of 36.8 per cent. Over that same period, population rose from a shade over 34 million to 38.2 million, an increase of 12.4 per cent, only one-third the increase in physicians. Granted, the median population age went from 39.8 to 41.1, which means greater health care demand.
Among physicians, the number of "generalist medical practitioners" rose from 38,032 to 50,421 — by 32.6 per cent.
Article content
Number of female physicians? Up from 31,399 to 49,286: by 57 per cent. At the same time, the number of male physicians 65-74 was up 43.5 per cent, from 5,924 to 8,498, while the number of male physicians 75 years and older rose 54.3 per cent, from 1,492 to 2,302.
Number of nurses? Up 20.2 per cent, from 318,565 to 382,839 (in 2020). Number of "caring personnel" (i.e., personal care workers)? Up 37.1 per cent from 174,893 to 239,780 (in 2020).
Number of CT scanners? Up 13.4 per cent from 2010 to 2019. Number of MRI machines? Up 34.5 per cent from 2010-2019. Number of mammography machines? Up 21 per cent 2010-2021.
And, finally, government spending on health care as a percentage of GDP? Up from 7.5 per cent in 2010 to 8.6 per cent in 2022 — though that last number is an estimate and, again, 2022 was not your typical year.
Article content
I can't vouch for any of these numbers. If you read the OECD's methodological backgrounders (not recommended!) the organization's stats-minders do seem obsessive about making data consistent across countries and through time. So I tend to believe them. All the double-digit increases imply that extra money poured into the system is having an effect. You don't get more doctors, nurses, CT scanners and so on without money.
But then if you look at the number of hospital beds, it was 94,702 in 2010 but only 94,849 in 2020, an increase of just 0.16 per cent. Whenever I hear news reports saying the level of service is limited by the shortage of hospital beds I always think: go to IKEA! They've got lots of beds! And thousands of Canadians will volunteer to help you assemble them. But of course the limit is not the actual number of beds, it's the people available to care for patients in those beds.
Article content
William Watson: At the margin, inflation is dead and EVs are booming. Let's wait a bit on both

William Watson: School lunches are best prepared by parents, not Ottawa

William Watson: Central bankers should read Paul Volcker on taking down inflation
The number of hospitals in Canada actually declined over the 10 years 2010-2020, from 724 to 702. At the same time, the number of hospital workers rose 9.9 per cent from 583,650 to 641,723. Closing smaller hospitals and merging hospitals is a favourite way for ministers of health to reduce overhead costs. And it does usually make sense, unless you factor in patient convenience, which the system too often doesn't.
I sympathize with health ministers: if we Canadians aren't complaining about health-care service, we're complaining about high health-care costs. But, as the Economist points out, health care is underperforming in many rich countries, to the extent that people are giving up on the idea that they can count on it. And in our case, that's despite new money and resources having gone into it.
Article content
People look at numbers like these — and many, many other numbers — and make recommendations to the minister, who then acts from the top down. We've been trying that for several decades now. Does anyone really think it's going to work?
The basic problem is that we've got to get more productivity out of these 1.6 million (I have no doubt) hard-working and public-spirited people, and without terminally stressing them in the process. What way of organizing them is most likely to do that? A large, and largely unionized, public-sector bureaucracy built on traditional hierarchies with its budgets determined politically and often by historical formula rather than through some form of feedback from user satisfaction? Or something more fractured, competitive and, yes, private, so that continuous improvement benefits those doing the improving in direct and immediate ways?
The truly shocking thing about the overwrought reaction to Ontario's application of greater private supply to the problem of wait lists is that there apparently still are people who believe the Soviet way is best.